TouchMix Certified Operator training will allow you to learn in a hands-on, faced paced and lively environment with the help of certified QSC trainers who specialize in a variety of mixing applications. This classroom setting will introduce you to the TouchMix Family of compact digital mixers and focus on delivering consistent, quality results every time- quickly and easily, at any skill level.
Choose from the schedule of classes below.

Highlights
How to setup an entire mix in minutes using presets
How to EQ a room using the Room Tuning Wizard
How to eliminate and control feedback using the Anti-Feedback Wizard
How to multi-track record your live performances and rehearsals direct to HD or DAW
More...

Class Details
Prerequisites: None
Length: 1 classroom day
Cost: Free!


Continental breakfast and lunch is provided

AVIXA CTS Credits
4 units (upon successful completion of final assessment)
Upcoming and Ongoing Classroom Sessions
Submit a Local Training Request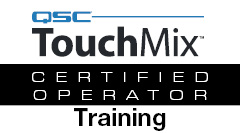 Don't see a training session that's right for you?
Submit a Training Request form to notify the QSC Training team that you would be interested in attending a local class.